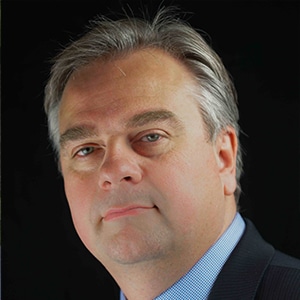 Dirk Van Den Wouwer
Dirk Van Den Wouwer (M) holds a Masters degree in Micro Electronics. He is currently Director R&D and Product Management at Televic Rail NV where he leads  different international R&D teams. Dirk has been involved in several nationally and internationally funded research projects. Before joining Televic Rail ten years ago, he was R&D Director at Gemidis NV, a spin-off company of IMEC, which is one of the world's leading organizations for R&D in nanoelectronics and digital technologies. Prior to this, Dirk worked amongst others as System Architect at AGFA Healthcare and as Project Manager at Xeikon NV.
Building Reactive, Scalable Products using Asynchronous Data Streams and Containers – a real example
Because of the explosive growth of the internet, performance requirements for web applications
have grown accordingly. A few years ago the C10K problem was a huge challenge… servers handling
10000 connections at the same time. Nowadays, Twitter gets 300000 requests per second.
Vert.x is a lightweight, asynchronous, event-driven, scalable application framework for reactive
applications on the JVM. It is Open Source and is currently one of the most popular JAVA projects on
Github.
We will together investigate, on the basis of a real architecture, its potential and give you a head
start on this technology.
The secrets of innovation applied to software
There is only one path to sustainability : avoid the so-called commodity magnet. New products are -after some time- pulled to this virtual magnet which increases cost, and reduces income for these products. To avoid this, every company has to continuously invest in Innovation to bring new products to the market place.
So, how can one innovate ? What are the secrets to stay ahead of competition ? Why are many companies not able to grow using innovation ? What is the secret to come to the Eureka moment that will push the organization and its employees up the ladder?